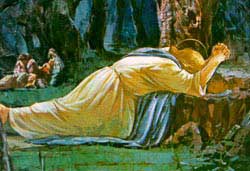 Prayer is important for many reasons, especially for witnessing. But prayer can be hindered. So that your prayers and witnessing might be as affective as possible, a discussion of the hindrances of prayer is necessary. Do any of the following apply to you?
Sin hinders prayer. "If I regard wickedness in my heart, the Lord will not hear" (Psalm 66:18). We all sin, but do you have unconfessed and unrepented sin in your life? If so, confess your sin, repent from it as you are commanded in Acts 17:30, and continue in witnessing and prayer.
Selfishness hinders prayer. "You ask and do not receive, because you ask with wrong motives, so that you may spend it on your pleasures" (James 4:3). Examine yourself. Make sure your prayers are not motivated by selfish desires. If you find that selfishness is a factor then confess it and repent.
Doubt hinders prayer. "But let him ask in faith without any doubting, for the one who doubts is like the surf of the sea driven and tossed by the wind" (James 1:6). We all doubt. We all fail. But when you doubt be reminded of the man who said to Jesus, "Lord I believe, help my unbelief" (Mark 9:24). He believed and yet doubted and Jesus granted his request. Remember that God has given a measure of faith to every man (Rom. 12:3). Trust God, even when you have doubts. It does not matter necessarily how much faith you have as much as who your faith is in. Put what faith you have in Jesus. Trust Him. Watch Him be faithful to you.

"The Rabbi"